The more people you know in your industry, the greater your chances of learning about exciting job opportunities. Join a professional organization in your industry and attend as many meetings as you can. If you have the time, volunteer for committees or Board positions. This illustrates your confidence, enthusiasm and commitment - traits that any prospective employer values!

WOMEN
Suit or tailored dress in solid or subtle color

Choose among attaché case, handbag or shoulder bag

Polished and closed toe shoes, basic dark pumps with medium or low heels, no run over heels

Simple and basic jewelry

Always wear hosiery and keep color near your skin tone

Nail subtle if polished, clean and not chipped

You may use light-scented cologne, if any

Make-up should be minimal
MEN
Black, dark blue or charcoal gray slacks

Conservative red or navy blue color, striped or solid design ties. Small repeating shapes are also good. No cartoon characters please!

Solid white or light colored long-sleeved shirt

Avoid flashy cufflinks, rings or neck chains. No earrings

Shined shoes with no run-over heels. Tassel loafer, wings or lace shoes preferred

Over the calf socks

Clean nails

Hair should be neat and well combed. No absurd hairstyles

No strong fragrant scent
BOTH

Women
Tailored suit, closed toe shoes and a handbag is suitable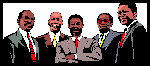 Men
Striped ties, light colored long-sleeved polo, dark slacks and coat is appropriate


Both
No smoking. Shake hands after the interview.